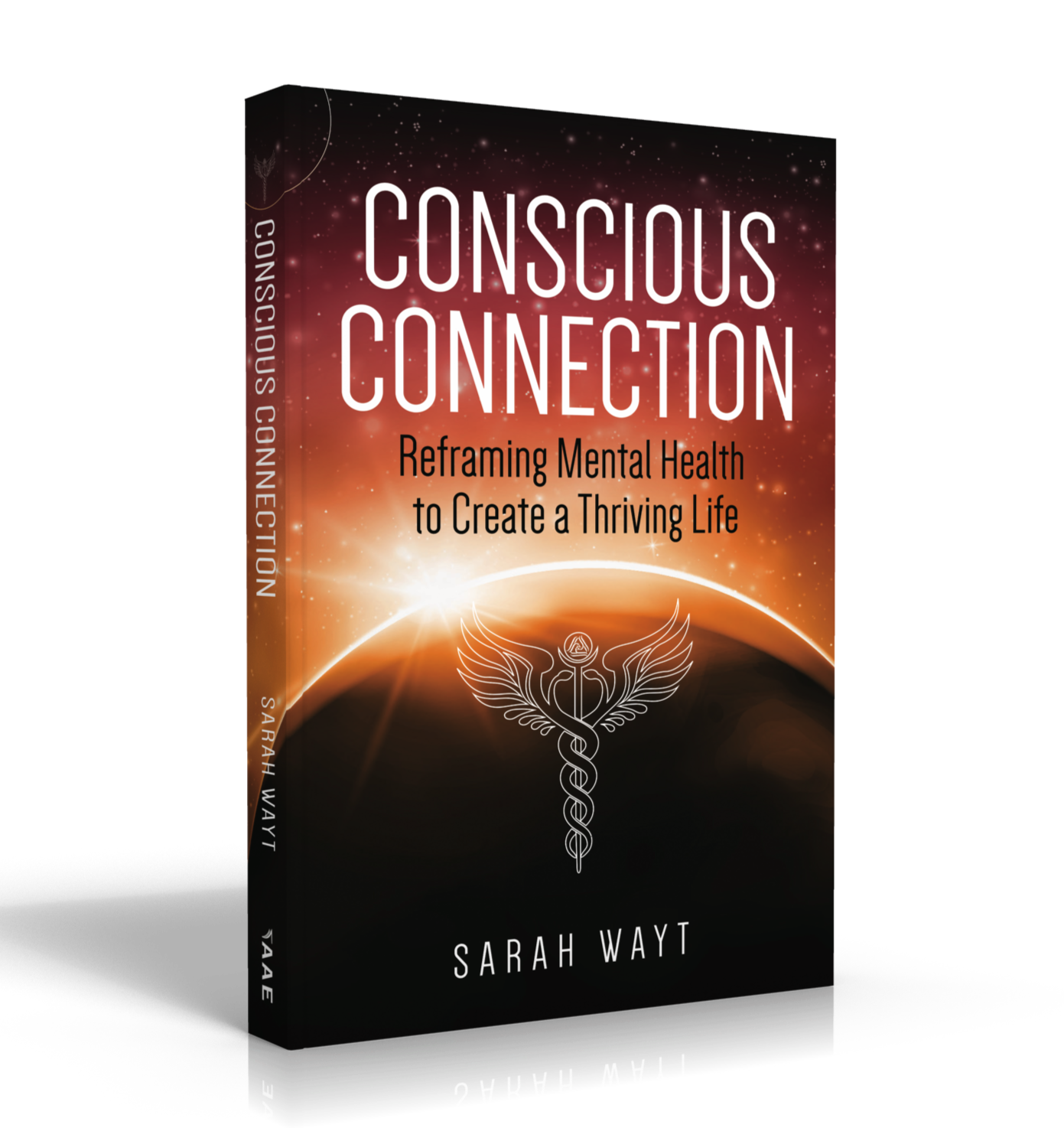 ---
CONSCIOUS CONNECTION
Reframing Mental Health to Create a Thriving Life
---
What you need to know to sound like you've read the book.
---
Thanks for visiting the digital press kit for Conscious Connection.
---
If you're interested in scheduling an interview please contact me. If you need to get in touch with me immediately (24 hours or less) please email me: [email protected].
If you're on a deadline, include your phone number too and I will call you back quickly.
Once the interview posts, please send me all the relevant links. I'd love to send my traffic your way.
I look forward to connecting.
--Sarah Wayt
---
On this page you will find:
SOME STATISTICS

SUMMARY OF CONSCIOUS CONNECTION

TABLE OF CONTENTS

SAMPLE INTERVIEW QUESTIONS

ABOUT THE AUTHOR

NEXT STEPS FOR YOUR AUDIENCE
SOME STATISTICS
Mental health problems are one of the main causes of the overall disease burden worldwide.

[1]

Approximately 1 in 4 people in the UK will experience a mental health problem each year. In England, 1 in 6 people report experiencing a common mental health problem (such as anxiety and depression) in any given week.

[2]

In England, women are more likely than men to have a common mental health problem

[3]

and are almost twice as likely to be diagnosed with anxiety problems.

[4]

In 2013, 6,233 suicides were recorded in the UK for people aged 15 and older. Of these 78% were male and 22% were female.

[5]

Major depression is thought to be the second leading cause of disability worldwide and a major contributor to the burden of suicide and ischemic heart disease.

[6]
Vos, T., et al. (2013) Global, regional, and national incidence, prevalence, and years lived with disability for 301 acute and chronic diseases and injuries in 188 countries, 1990–2013: a systematic analysis for the Global Burden of Disease Study. The Lancet. 386 (9995). pp. 743-800.

https://www.mind.org.uk/information-support/types-of-mental-health-problems/statistics-and-facts-about-mental-health/how-common-are-mental-health-problems/#one

McManus S, Bebbington P, Jenkins R, Brugha T. (eds.) (2016) Mental health and wellbeing in England: Adult Psychiatric Morbidity Survey 2014. Leeds: NHS Digital. Available at: http://content.digital.nhs.uk/catalogue/PUB21748/apms-2014-full-rpt.pdf [Accessed 5 October 2016].

Martin-Merino, E., Ruigomez, A., Wallander, M., Johansson, S. and GarciaRodriguez, L. (2009). Prevalence, incidence, morbidity and treatment patterns in a cohort of patients diagnosed with anxiety in UK primary care. Family Practice, 27(1), pp.9-16.

Bromley, C., et al. (2014). The Scottish Health Survey: 2013 edition, volume 1, main report. [online] Edinburgh: The Scottish Government. Available at: http://www.gov.scot/Resource/0046/00464858.pdf [Accessed 25 Aug. 2015].

Whiteford, H. A. et al. (2013) Global burden of disease attributable to mental and substance use disorders: findings from the Global Burden of Disease Study 2010. The Lancet. 382 (9904). pp. 1575-1586.
SUMMARY OF CONSCIOUS CONNECTION
---
Does daily stress leave you feeling lost and alone?
---
We all experience some degree of hardship and trouble in our lives. It is something we come to expect as humans, and often it is the very thing that will inspire us towards great achievements.
The wonderful thing about being human is that we have the power of choice. We get to choose how we respond to the stress we are facing.
What happens when the stress we experience far outweighs our power to make a choice? When the decision to respond in a healthy way is stripped from our grasp and we are left helpless and unable to cope?
---
Does hopelessness creep into the recesses of your mind leaving you desperate about the future?
---
During these terrible times we enter a spiral of self deprivation and despair which touches every part of our lives.
It filters through our very existence, changing everything we thought we knew about ourselves and the world in which we live.
Our perception of safety shifts and leaves us grasping for a sense of understanding.
We desperately reach for a feeling of normality which no longer seems to exist.
---
It's time to find a way out of the darkness and into the light.
---
Abundant wellbeing is a natural state which we move away from when challenging circumstances come into our lives.
We cannot increase or decrease our wellbeing, it is an intrinsic constant. Sometimes, however, we require guidance in reconnecting with it at our core in order to regain the balance to live our lives with flowing abundance.
Reclaim your individual power through greater self awareness, and turn your pain into a wonderfully powerful torch which lights your way towards significantly better mental health.
In Conscious Connection you discover how to
Use a fresh lens to reframe mental illness as a powerful healing tool.

Break through emotional pain towards deeper personal understanding.

Follow a pathway to overcome self-limiting beliefs.

And much more
TABLE OF CONTENTS
Introduction
SECTION 1: Adventure
Chapter 1: Incarceration
Chapter 2: Limbo
Chapter 3: Aftermath
SECTION 2: Breakthrough
Chapter 4: Who are we?
Chapter 5: Programming
Chapter 6: Who do we want to become?
Chapter 7: Genetic make-up
Chapter 8: Quantum body
Chapter 9: Interconnected world
Chapter 10: Breath of life
Chapter 11: Our gifts
Chapter 12: Understanding innocence
Chapter 13: Gratitude and forgiveness
Chapter 14: Who can we be?
Chapter 15: Walking with power
SECTION 3: Movement
Chapter 16: My daily check-up
Chapter 17: Adventure call
SAMPLE INTERVIEW QUESTIONS
In 60 seconds, what is Conscious Connection about?

Why did you write the book?

Who should read this book? Why should they read it?

You talk about self-limiting beliefs that influence mental health. Tell us more

You describe internal mechanisms that influence mental health. Tell us more

When you describe conscious connection, what are people actually connecting with?

Share your process for conscious connection and why it is critical.

You've created a course called the 5-Day Timeline Challenge. In 5 days, it helps people begin to build a timeline framework. How?

What comes after the free taster course?

How can readers connect with you?

Where is your book available?
ABOUT THE AUTHOR
Sarah Wayt is an author, speaker, medical anthropologist, and holistic health practitioner, with a 20-year career helping businesses and individuals develop better outcomes for their health. As a passionate advocate for the holistic approach to health and wellbeing, Sarah's early career involved writing research and funding proposals for non-profit groups to move towards a more inclusive holistic model in their organisation.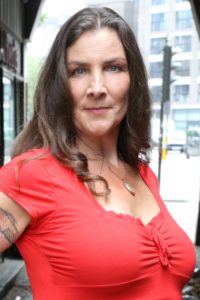 Through her professional and voluntary work, she has built strong and lasting bonds in both coaching and research settings, adding value to the organisations and people she has engaged.
In 2016, Sarah gained a unique and intensely personal perspective on mental illness when she unexpectedly suffered extreme trauma. Overcoming this challenging chapter in her life drew upon all of her holistic expertise to successfully navigate her way towards healing.
Through her writing, speaking and coaching, Sarah helps people to reframe their thinking and turn their negative experiences into an adventure from which they can learn valuable healing lessons.
Sarah lives in the North East of England. She is blessed with a son, a daughter, and a granddaughter, who all live close by. When she's not working, she loves travelling, painting, drinking tea and exploring.
Speaking
Sarah is a gifted speaker, equally engaging in front of large audiences and more intimate groups. She shares her knowledge and understanding by delivering group and 1-to-1 coaching to members and service users. Her client list includes Mental Health North East, Muddy Boots, Women's Health in South Tyneside, Movers and Shakers, and the Workers Education Association, to name but a few.
Coaching
Sarah provides various levels of coaching, offering basic and extended programmes in the understanding of Conscious Connection; as well as 'Train the Trainer', with coaches becoming qualified to deliver the principles laid out in the book. Sarah is also available for private 1-to-1 coaching sessions via Zoom and Skype, helping individuals throughout the world to embrace the power of health and wellbeing through personally tailored Conscious Connection sessions.
Social Media
Sarah has launched comprehensive social media platforms 'Conscious Connection 5-Day Timeline Challenge' and 'Conscious Connection Movement' Facebook groups, to engage her readers as a continuation of their understanding.
NEXT STEPS FOR YOUR AUDIENCE
Some members of your audience may want to learn more about the training I offer. At present I offer a progressive 3-Step programme via my online school.
Step 1 begins with the 5-Day Timeline Challenge.
Step 2 is the 6-month Conscious Connection programme.
Step 3 is the Train the Trainer programme.
FREE 5-Day Timeline Challenge
5 x Video tutorials - Begin your timeline challenge
5 x Visualisation recordings - Connecting with essential energy
Lifetime access to private Facebook tribe.
Conscious Connection Full Programme
6 Months duration
12 x Video tutorials - Exploring self-limiting beliefs.
Live weekly coaching calls
Train the Trainer Programme
6 Months duration
Monthly coaching masterclass - Expand your business ideas.
1-to-1, 3 x hour long business strategy coaching sessions.
Private Coaching
I offer private 1-to-1 coaching  sessions, helping individuals throughout the world to embrace the power of health and wellbeing through personally tailored Conscious Connection sessions. These are facilitated via Zoom or Skype to ensure worldwide borders do not dictate boundaries.
---
I've created this online media page to make your job easier. If you need anything else, please email me:

[email protected]

 
---
THANKS FOR YOUR INTEREST. I LOOK FORWARD TO CONNECTING.